2012 Super Bowl Ads: Halftime In America
2:01
Nivel de dificultad:
Intermedio
2012 Super Bowl Ads:
Halftime In America
Clint Eastwood narrates and stars in this two-minute Superbowl ad from Chrysler, following on from their 2011 ad with Eminem. Some have accused the current commercial of having a pro-Obama bias in this U.S. Presidential Election year. See the ad, do the Video Booster, and judge for yourself.
Vocabulario clave
halftime
comeback
discord
knocked out
rallied
downturn
come from behind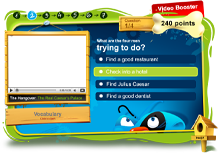 ¡Empieza a Aprender Inglés Ahora!
Un Video Booster es un ejercicio interactivo de Inglés en 6 pasos que te ayuda  a aprender y practicar los términos de vocabulario inglés, las expresiones idiomáticas y la gramática vistas y oídas en los vídeo clips.
Free Trial
Prueba gratis
Para jugar a este Video Booster, activa tu Prueba gratis de 3 días. Entonces tendrás acceso a más de 1.000 lecciones de inglés basadas en vídeos como éste, así como a todos nuestros diccionarios visuales y juegos para aprender inglés.
Previsualizar Vídeo
2012 Super Bowl Ads: Halftime In America
11 comentarios