Associated Press: Bear, Lion, Tiger Living In Harmony
1:23
Nivel de dificultad:
Intermedio
Associated Press:
Bear, Lion, Tiger Living In Harmony
At an animal refuge in Georgia, USA, a lion, tiger and a bear have been living together ever in perfect harmony for the past eight years.
Vocabulario clave
different
two-fold
get along
co-exist
bond
species
affection
rehabilitating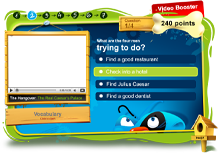 ¡Empieza a Aprender Inglés Ahora!
Un Video Booster es un ejercicio interactivo de Inglés en 6 pasos que te ayuda  a aprender y practicar los términos de vocabulario inglés, las expresiones idiomáticas y la gramática vistas y oídas en los vídeo clips.
Free Trial
Prueba gratis
Para jugar a este Video Booster, activa tu Prueba gratis de 3 días. Entonces tendrás acceso a más de 1.000 lecciones de inglés basadas en vídeos como éste, así como a todos nuestros diccionarios visuales y juegos para aprender inglés.
Previsualizar Vídeo
Associated Press: Bear, Lion, Tiger Living In Harmony
10 comentarios