Barack Obama Campaign 2012: The Question
1:05
Nivel de dificultad:
Intermedio
Barack Obama Campaign 2012:
The Question
This television advertisement is the Barack Obama Campaign's response to the question put to Americans by challenger Presidential Candidate Mitt Romney to Americans to ask themselves if they are better off economically today than they were four years ago.
Vocabulario clave
better off
laid off
job growth
tax break
clean energy
roll back
the Great Depression
cratered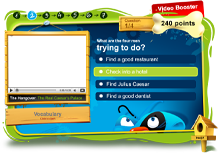 ¡Empieza a Aprender Inglés Ahora!
Un Video Booster es un ejercicio interactivo de Inglés en 6 pasos que te ayuda  a aprender y practicar los términos de vocabulario inglés, las expresiones idiomáticas y la gramática vistas y oídas en los vídeo clips.
Free Trial
Prueba gratis
Para jugar a este Video Booster, activa tu Prueba gratis de 3 días. Entonces tendrás acceso a más de 1.000 lecciones de inglés basadas en vídeos como éste, así como a todos nuestros diccionarios visuales y juegos para aprender inglés.
Previsualizar Vídeo
Barack Obama Campaign 2012: The Question
16 comentarios