The Jonas Brothers: LA Baby
1:46
Nivel de dificultad:
Fácil
The Jonas Brothers:
LA Baby
The first music video from the television special Jonas LA, which premiered on Disney Channel. Featuring a helicopter tour of Los Angeles by night.
Vocabulario clave
highway
California
destination
vacation
breeze
Hollywood
neon lights
LA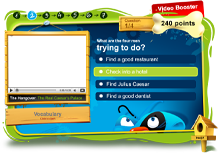 ¡Empieza a Aprender Inglés Ahora!
Un Video Booster es un ejercicio interactivo de Inglés en 6 pasos que te ayuda  a aprender y practicar los términos de vocabulario inglés, las expresiones idiomáticas y la gramática vistas y oídas en los vídeo clips.
Free Trial
Prueba gratis
Para jugar a este Video Booster, activa tu Prueba gratis de 3 días. Entonces tendrás acceso a más de 1.000 lecciones de inglés basadas en vídeos como éste, así como a todos nuestros diccionarios visuales y juegos para aprender inglés.
Previsualizar Vídeo
The Jonas Brothers: LA Baby
36 comentarios