Madagascar 3: Are You Circus?
1:02
Nivel de dificultad:
Fácil
Madagascar 3:
Are You Circus?
In this clip from the second sequel in the Madagascar series, in which Alex, Marty, Gloria and Melman travel through Europe in an attempt to return to New York, a travelling circus seems to be the perfect place for the animals to hide.
Vocabulario clave
conceivable
unwanted
heat
glossy
sneer
awkward
pop off
a solid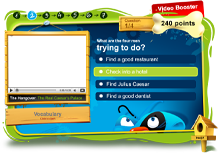 ¡Empieza a Aprender Inglés Ahora!
Un Video Booster es un ejercicio interactivo de Inglés en 6 pasos que te ayuda  a aprender y practicar los términos de vocabulario inglés, las expresiones idiomáticas y la gramática vistas y oídas en los vídeo clips.
Free Trial
Prueba gratis
Para jugar a este Video Booster, activa tu Prueba gratis de 3 días. Entonces tendrás acceso a más de 1.000 lecciones de inglés basadas en vídeos como éste, así como a todos nuestros diccionarios visuales y juegos para aprender inglés.
Previsualizar Vídeo
Madagascar 3: Are You Circus?
39 comentarios