Men In Black III: Look Right Here
0:42
Nivel de dificultad:
Fácil
Men In Black III:
Look Right Here
In this clip from the second sequel to the original Men in Black comedy/science fiction hit, Agent J and Agent K (Will Smith and Tommy Lee Jones) control a crowd of witnesses with the famous neuralyzer (or flashy thing)...
Vocabulario clave
associate
demonstrate
flight attendant
cell phone
satellites
'cause
GPS
ain't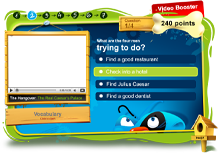 ¡Empieza a Aprender Inglés Ahora!
Un Video Booster es un ejercicio interactivo de Inglés en 6 pasos que te ayuda  a aprender y practicar los términos de vocabulario inglés, las expresiones idiomáticas y la gramática vistas y oídas en los vídeo clips.
Free Trial
Prueba gratis
Para jugar a este Video Booster, activa tu Prueba gratis de 3 días. Entonces tendrás acceso a más de 1.000 lecciones de inglés basadas en vídeos como éste, así como a todos nuestros diccionarios visuales y juegos para aprender inglés.
Previsualizar Vídeo
Men In Black III: Look Right Here
30 comentarios