Michael Wigge: How To Travel The World For Free
3:44
Nivel de dificultad:
Fácil
Michael Wigge:
How To Travel The World For Free
Michael Wigge embodies the true spirit of travel as he jumps from situation to situation in his journey "to the end of the earth" without spending any money at all.
Vocabulario clave
good for
penniless
odd-jobbing
in return for
take
manages it
pessimists
means of transport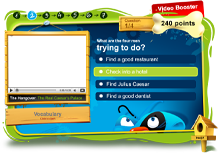 ¡Empieza a Aprender Inglés Ahora!
Un Video Booster es un ejercicio interactivo de Inglés en 6 pasos que te ayuda  a aprender y practicar los términos de vocabulario inglés, las expresiones idiomáticas y la gramática vistas y oídas en los vídeo clips.
Free Trial
Prueba gratis
Para jugar a este Video Booster, activa tu Prueba gratis de 3 días. Entonces tendrás acceso a más de 1.000 lecciones de inglés basadas en vídeos como éste, así como a todos nuestros diccionarios visuales y juegos para aprender inglés.
Previsualizar Vídeo
Michael Wigge: How To Travel The World For Free
16 comentarios