Once Upon A Time: I'm Your Friend Too
1:24
Nivel de dificultad:
Intermedio
Once Upon A Time:
I'm Your Friend Too
In this scene the fantasy drama TV series which sets traditional fairy-tale characters in a modern-day setting, Regina (Lana Parrilla) reassures Dave (Josh Dallas) that she supports him even though he has not been a good friend to one of their mutual friends.
Vocabulario clave
quite the opposite
Anytime
here for you
get going
My pleasure
letting me know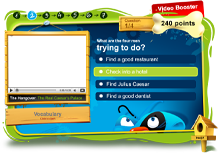 ¡Empieza a Aprender Inglés Ahora!
Un Video Booster es un ejercicio interactivo de Inglés en 6 pasos que te ayuda  a aprender y practicar los términos de vocabulario inglés, las expresiones idiomáticas y la gramática vistas y oídas en los vídeo clips.
Free Trial
Prueba gratis
Para jugar a este Video Booster, activa tu Prueba gratis de 3 días. Entonces tendrás acceso a más de 1.000 lecciones de inglés basadas en vídeos como éste, así como a todos nuestros diccionarios visuales y juegos para aprender inglés.
Previsualizar Vídeo
Once Upon A Time: I'm Your Friend Too
16 comentarios