Rock of Ages: Now Go
1:35
Nivel de dificultad:
Intermedio
Rock of Ages:
Now Go
In this American comedy musical film, Sherrie (Julianne Hough), a small town girl, interviews Stacee Jaxx (Tom Cruise) but he isn't paying attention to her.
Vocabulario clave
anthem
nonsensical
trend
solo
reclusive
industry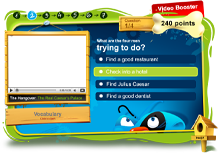 ¡Empieza a Aprender Inglés Ahora!
Un Video Booster es un ejercicio interactivo de Inglés en 6 pasos que te ayuda  a aprender y practicar los términos de vocabulario inglés, las expresiones idiomáticas y la gramática vistas y oídas en los vídeo clips.
Free Trial
Prueba gratis
Para jugar a este Video Booster, activa tu Prueba gratis de 3 días. Entonces tendrás acceso a más de 1.000 lecciones de inglés basadas en vídeos como éste, así como a todos nuestros diccionarios visuales y juegos para aprender inglés.
8 comentarios